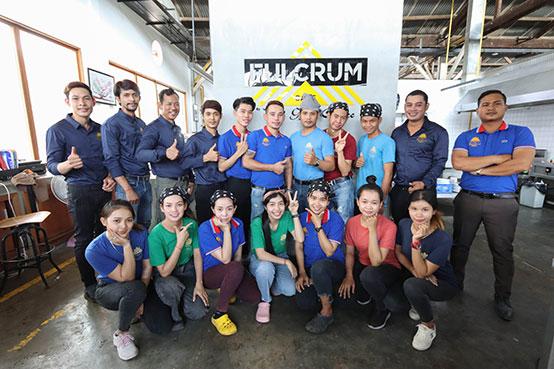 Feel Good Coffee is a local employee-owned social business.

We are building more than a cafe, more than a roasting business. We are building a family, an organization and a team that supports, trains and empowers both within the walls of our cafes and restaurants, but also in the lives of our staff and farmer-suppliers.

We want every individual we work with to grow, to be given opportunities and responsibility, to be proud of their abilities and accomplishments and to realise their full potential.

We wish to provide and share knowledge of coffee in Cambodia. Our aim is to increase the standard of Cambodian coffee through product development, training and innovation.

We believe in our people, our country, and our region so strive to promote the amazing coffees of South East Asia.
Employment



Steady, well-paid employment allows our staff to learn to operate at the highest level of food service, in roasting coffee, the kitchen and front of house. This gives them real skills and experience that they can use to move up within our organization, follow their career path somewhere else, or start their own business!

We comply fully with Cambodian labor laws, providing our staff days off for the two major Cambodian holidays, Pchum Ben and Khmer New Year, plus extra discretionary holiday they can take any time. The decision to take only these holidays was made by all of our staff, and we revisit these decisions from time to time to ensure we continue to reflect the collective will.

Our shifts are no more than 40 hours per week, and we pay above-market salaries, plus a profit-share bonus several times a year, so that our staff do not have to work multiple jobs to have a comfortable standard of living. The health and safety of our employees is a primary concern, so we pay for every member of our team to have a motorcycle helmet, regular dental care and medical check-ups.


Education



We support our employees' educations and encourage them to continue learning, both at work and outside. We provide free internal trainings in a range of personal development, business, finance, and management topics, and some advanced catering, customer service and barista skills.

We also partially subsidize other educational opportunities that our employees wish to pursue and help them to improve their English proficiency so that they are more qualified for any job they might want to pursue in the future.

We have organized several international coffee trainers to run courses for our staff in Cambodia, and have sent our people to learn in Thailand, Vietnam, Malaysia, Singapore and Italy.


Empowerment


In our business, empowerment means giving people meaningful options and the power to transform their choices into actions and desired outcomes.

For our farmer-suppliers, this means they set the price for their own coffee, using their knowledge to grow and process their coffee without interference, we respect their autonomy and treat them as equal partners in our business, and help them to access tools and training about new processes and technologies that can make their farms more sustainable and profitable.

For our employees, it means sharing information, rewards, and power with our entire staff so that they can take initiative and make decisions, solve problems, and improve performance and service, and direct their own career path. Our business grows its own leaders and managers from within; and as our business grows, we look first to our current staff, giving our loyal employees opportunities to learn other parts of the business.

We recognize that our business cannot fulfill the ambitious of all of our talented and hardworking employees (we are only a coffee shop after all!), and we strive to support their futures in whatever way we can. We provide micro-enterprise development support for staff that want to start their own ventures, from business plan and pricing advice to start-up capital and using our networks for marketing and social media support. Feel Good Bakery and Feel Good Teas of Cambodia were both started by former employees that we are proud to support!