Coffees and Teas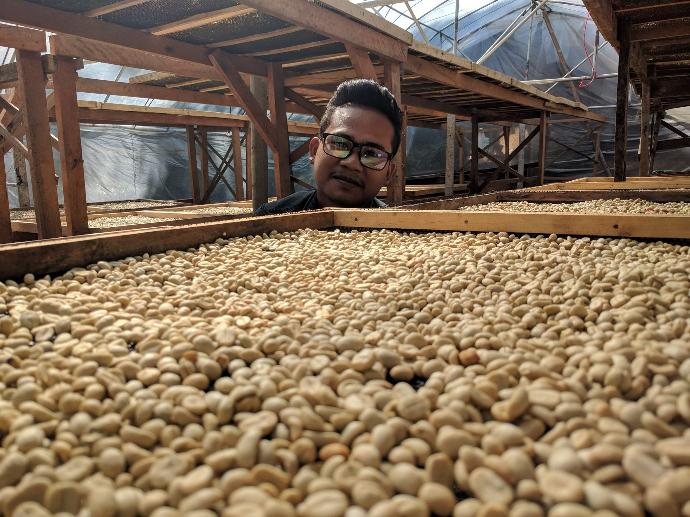 Specialty Coffees



Feel Good Coffee buys green coffee directly from farmers and cooperatives around SE Asia so we can be sure that the fair prices we pay go directly to the families and communities growing, maintaining, and harvesting our delicious coffees. We believe that long-term relationships with our suppliers gives them the confidence to invest their earnings back into the farm, their families and their village, and ensures that we get excellent quality year after year. We visit all of our suppliers in person, to discuss with them how our business is going, to hear their challenges and successes, and to introduce members of our team to regions and people that they might not otherwise get to visit. These relationships enhance both of our understandings, and make us better at our job of bringing you the best and most delicious coffee.

We source our green coffee from at least six producers around the region– Cambodia, Laos, Thailand and Vietnam. We use these beans in our custom crafted blends, and single origin coffees.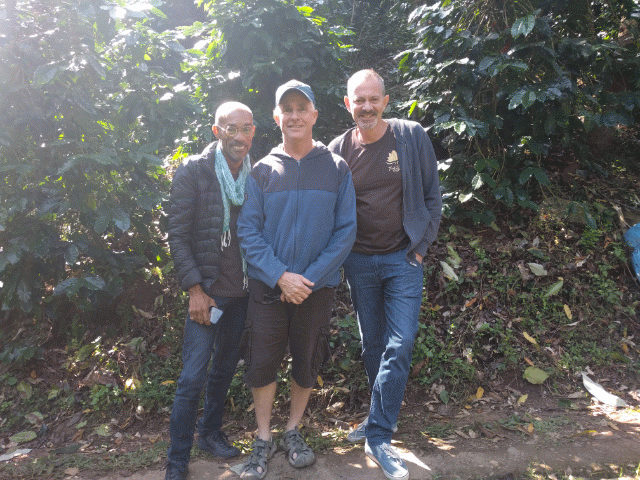 Our Suppliers



We have been working with local farmers around SE Asia since 2013. Our farming partners love coffee and are focused on quality and sustainability, and generally do not use chemical fertilizers and pesticides. We are in contact with them regularly and work together to make sure they have access to the tools and technology that they need to produce the highest quality, even in uncertain weather and market conditions.

We also pay the price they ask—we feel the farmers have a right to ask for a fair price, not dictated by artificial market rates based on speculative global supply and demand. This keeps our supply reliable and costs stable from year to year and ensures that the farmers can support themselves and their families, and continue to invest in their farms and to protect the environment. We choose ethics and personal connection over costly certifications of dubious value; we visit our farmers and farms every year, both to maintain our relationships with the people that make our coffee business possible, and to give a growing number of our staff the opportunity to learn more about our business and the coffee industry and to connect directly with the source of the coffee they prepare for customers every day. It is important to us that our staff are able to tell you about the coffee you are about to drink in their own words, and are passionate about coffee and the flavors that its origins impart. We are committed to supporting high quality, sustainable, environmentally responsible coffee production, and to supporting and respecting the families and communities that grow our coffee over the long term.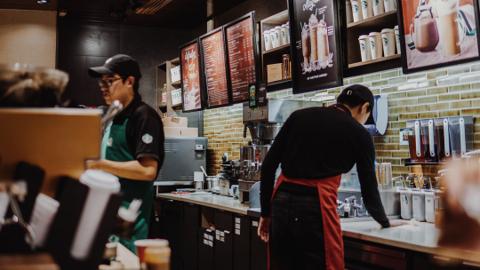 Our Coffee Blends and Single Origin Coffees
The five elements of coffee flavor

Aroma – a fragrant scent. Aroma introduces us to flavor before we taste it and makes up a large proportion of flavor.

Sweetness – the level of pleasant acidity and brightness.

Body – thickness and weightiness on your tongue.

Flavor – the infusion of aroma, sweetness and body as they all converge.

Finish – the end and aftertaste of the experience that sits on your palate.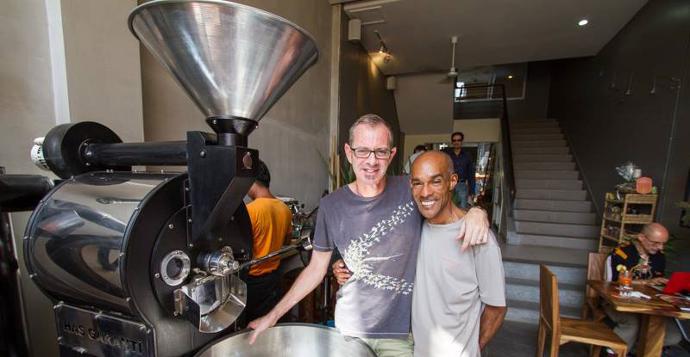 We have a range of fresh roasted coffees available to our wholesale customers that showcase our unique suppliers and suit a variety of tastes. We will work with you to identify a blend or single-origin coffee that will set you apart from competitors, be delicious as black coffee or with milk, and we will roast and deliver it to you weekly for the best-tasting product. We pride ourselves on supplying coffee to excellent cafes, luxury hotels and guesthouses, and top-rated restaurants throughout Cambodia—please contact us to arrange a tasting or to talk to our roasting team about your needs.
Feel Good Blend– our house blend and most popular. A blend of coffees from Cambodia, Vietnam and Thailand that combine to make what we think is the best coffee in Cambodia! Full-bodied, rich and satisfying, this citrusy, with bitter chocolate notes coffee is great black or with milk.
Tini Blend– an Italian-style espresso blend, with less acidity than our Feel Good Blend. Rich and complex, it tastes like high-end fruity dark chocolate with blackberries.
Thai Single Origin– this special Arabica is grown at high attitudes (around 1400m), on a steep hillside in the mountains outside of Chiang Mai from a very experienced village in the shade of jungle trees. We love the wild berry fruitiness and woody deep dark chocolate of this coffee.
Khmer Blend- newly developed to appeal to the Cambodia palate. This combination of our Laos, Thai and of course, Cambodian coffees. This full city plus roast profile brings out the tangy, fruity acidity with deep dark chocolate flavor, and rich thick tart body. Great both espresso and with milk, especially with sweet milk.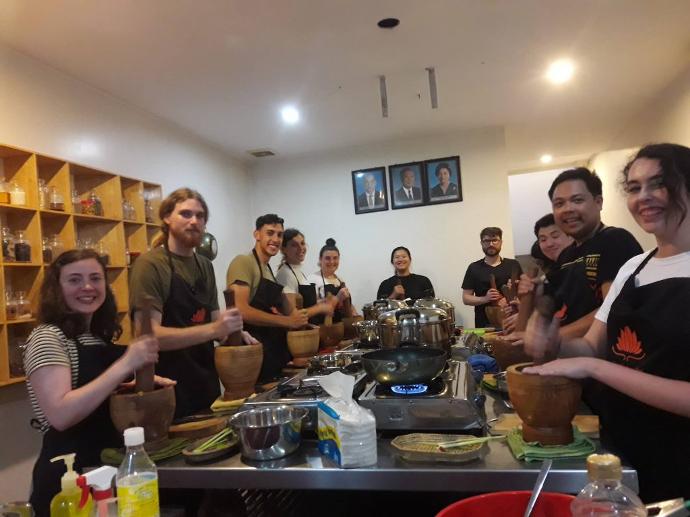 Tea blends and infusions
Our teas and infusions are made from traditional ingredients, most of which are sourced locally and dried slowly in the sun for the best flavor. All of the ingredients are carefully sourced and blended by our former chef, Nara Thuon, who we supported to start his own cooking school and food tour business! Our blends are created to optimize the healing properties of the ingredients, nourishing you from the inside out. All are delicious hot or iced.

Revitalize Tea: rose petal, lemongrass, kaffir lime leaf, green tea and ginger

Healing Tea: lemongrass, cinnamon, ginger and star anise

Refreshing Tea: pineapple, mint, kaffir lime leaf, green and jasmine tea