LOCATIONS
Our Cafes and Restaurants​



We are so proud of our growing family of businesses, which in just three and a half years has grown to three cafes! We also manage a restaurant, several coffee bars, a cooking school and street food tour, and make our own traditional sun-dried teas and infusions– all with our employee ownership and profit sharing model.

See more information on our "Feel Good Group" page.

Our three cafes are the way we connect with people, no matter how long they are in town, and promote our action plan of employment-education-empowerment. We have created comfortable, friendly spaces where everyone is welcome and encouraged to meet, create, eat, and relax. We have free Wifi , food, coffee and other refreshing beverages served all day. Our menu is a mix of modern casual international dishes and Cambodian comfort food made with fresh local produce, with weekly specials designed by owner-managers Panha in Phnom Penh, Chandra in Battambang, and our kitchen team. we hope you will come try our food and coffee in person!

The cafes are staffed and managed by our team of bright, ambitious, coffee-loving Cambodians. We are also very happy to boast three baristas who have represented Cambodia internationally at regional barista competitions! Untac Nem (Cambodian barista champion, 2012), Sakana Az (Cambodian barista champion, 2013) and Sophorn Phan (second place Cambodian barista competition, 2015 and highest score, Culinary Malaysia Barista Competition, 2015).

We continually receive Certificates of Excellence from TripAdvisor and our cafes are consistently highly-rated in TripAdvisor and on Facebook. You can also purchase Feel Good Coffee, whole bean or ground-to-order, and our unique Feel Good Teas and infusions. More information on our coffee and tea blends under "Coffees and Teas".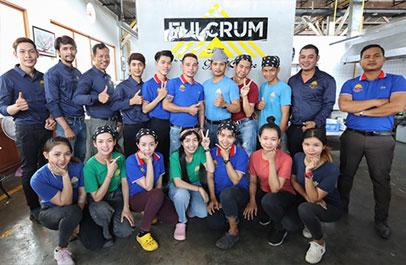 Fulcrum Cafe

Fulcrum café by Feel Good is located in Factory Phnom Penh on National Rd 2 . Factory is a collection of interesting businesses and work sharing spaces on an art and green spaced filled campus. Fulcrum café is the center of this 11 hectare site providing breakfast and lunch, and of course great coffees to the regular inhabitants and visitors alike. Pop in for a coffee, or a leisurely meal followed by a bicycle tour around the campus or take the street art walk. Fulcrum Café has a mainly Khmer food menu with some international dishes. Feel Good bakery supplies a delicious range of cakes for an afternoon treat. Feel Good Coffee roasters is located right next door to Fulcrum so be sure to pick up some freshly roasted coffee after enjoying your meal and beverage. Monday -Saturday 7am until 5 pm Sunday 8am until 4 pm.
Contact us: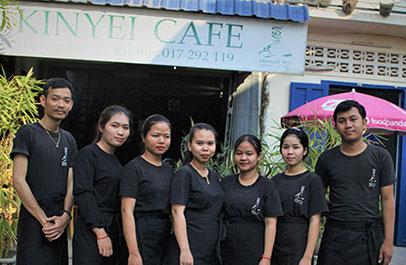 Kinyie Cafe

Kinyei Café is on Street 1.5 in Battambang, a wonderful open space over two floors that not only serves the best breakfast and coffee in Battambang, but also hosts exhibitions from local artists! Our WiFi, tall ceilings and tables make it a great space to work, study, plan travel, catch up with friends, or read a book on your own. We are also the meeting place for another fantastic social entreprise, Soksabike bicycle tours! Our menu is a local, fresh collection of Cambodian and International breakfast and lunch favorites– everyone raves about our bagel with salmon and cream cheese, homemade muesli with yogurt and fruit, freshly baked scones, and borbor (rice porridge). All of which are great washed down with a creamy flat white or a strong long black (never sweetened unless you ask us!) of Feel Good coffee. We also feature our former barista champions' "signature drinks" from competition– Untac's Street Latte and Sak's Cambodian Cappuccino are unique, creative combinations of local ingredients and delicious coffee! Kinyei Café is open 7 days a week, from 7 am to 4 pm.
Contact us: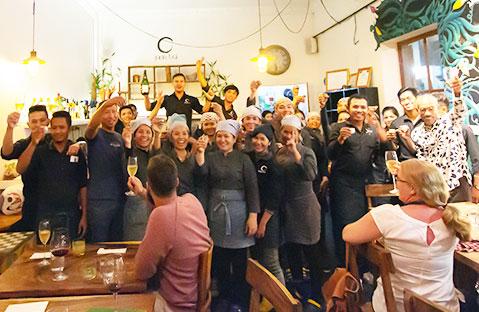 Jaan Bai Restaurant

Jaan Bai Restaurant is a collaboration between Cambodian Children's Trust (CCT) and Feel Good, to provide great food and beverages, offer employment and education, and putting profit back into helping Cambodia's most vulnerable children.

Jaan Bai offers breakfast, lunch and dinner in a light, air-conditioned art filled space in central Battambang, 100 metres from the central market, and 1 block from the riverside. Jaan Bai offers award winning fare from the renowned chef David Thompson, who was involved in Jaan Bai inception, as well as favourites from local Battambang cuisine. Coupled with an extensive creative cocktail list, mouthwatering desserts and Feel Good coffee, Jaan Bai is a must visit in Battambang.

Jaan Bai is open 7am to 9pm seven days a week. Dinner bookings are recommended.

Contact us: